Global Superpower, Israeli Colony

James Petras
The Power of Israel in the United States
Clarity Press, 2006

Reviewed by Ed Janzen in Canadian Dimension
Two things are most remarkable about James Petras' new book, The Power of Israel in the United States. The first is a matter of scale. Thinking critics of Israel will already know the facts and examples Petras cites regarding Zionist power in America. Reading all of them collected into a single volume, however, is simply exhausting.
Second (first, really), following Edward Said, critics of Israel are accustomed to think of the Zionist project as a colonization of Palestinian society and territory. As Petras has it, the Zionists didn't stop there, but subsequently, successfully colonized U.S. government and society, too. For its part, America pays Israel an annual "tribute" of billions of dollars per year, while looking the other way with respect to its shocking human-rights butcher's bill, habitual violations of international law, etc.
Can a relatively tiny country of just over six million people colonize a superpower? The espionage trials of Pentagon analyst Larry Franklin and America Israel Public Affairs Committee (AIPAC) operatives Steven Rosen and Keith Weissman have ensconced the power of Israel lobby, represented by AIPAC and other organizations, firmly in public debate. Some suggest that the Israel lobby is no different or more influential than other lobbies ­ like Big Oil or the anti-Cuba lobby ­ and that the focus on AIPAC "singles out" Israel advocates and is thus anti-Semitic. Petras explodes several such comparisons (comparisons forwarded even by left-leaning thinkers like Chomsky and Seymour Hersh), demonstrating that in its influence and achievements the Israeli lobby overshadows all the others.
For example, representatives of Big Oil and other industries often opposed the Iraq invasion; yet the U.S. went forward with the invasion anyways, goaded on by neoconservative "Israel firsters," thus eliminating a "threat" to Israeli security at the expense of American lives, taxpayers and industry. The same process is now underway with respect to Iran. Similarly, the anti-Cuba lobby has never been as successful in preventing American money flows to Cuba or in influencing foreign policy.
Likewise, the Israel lobby routinely buys the support of 90 to 98 per cent of American congressional representatives through campaign contributions, a record that overshadows other industry lobby achievements (witness Barack Obama's recent turn to philo-Israelism). Perhaps most amazing, Israel maintains the biggest spy network of any country operating inside the U.S. When caught, instead of being charged and tried, Israeli spies are more often returned to Israel.
Petras shows how sector after sector of American government, civil society and media have been internally shifted toward the service of Israel, often in direct opposition to existing U.S. foreign policy and American political and economic interests. His tally of the manifold forms of American support for Israel simply boggles the mind. Ordinary Americans ­ and, oh yes, Palestinians ­ bear the costs.
The Power of Israel in the United States probably won't share bookstore product placement on par with Jimmy Carter's recent volume Palestine: Peace Not Apartheid. But when you look up Carter's book on amazon.com, scroll down to the "customers who bought this item also bought" section, where you will find Petras' book. Then buy it.
---
"A provocative analysis of a serious problem that should be discussed and debated widely among the U.S. public, academics, and the policy establishment, this book succeeds in exposing in great detail the enormous power and influence of Israel and the Jewish Lobby in shaping U.S. policy toward the Middle East."
Berch Berberoglu, Ph.D.
Professor of Sociology, University of Nevada, Reno
Author of TURMOIL IN THE MIDDLE EAST.
"Once again James Petras takes us on a fearless truth trip—with lucid style, tough factual blows, commanding research, and compelling analysis. This is an eye-opening, must-read book for every advocate of democracy and every opponent of imperialism."
—Michael Parenti,
author of The Culture Struggle and Superpatriotism
"An outstanding analysis of the political machinery responsible for so much suffering in the Middle East: the social science equivalent of John Adam´s opera "Klinghoffer". Brilliant and substantive".
John Saxe-Fernandez,
Professor and Senior Researcher, Faculty of Political Science National Autonomous
University of Mexico and leading world authority on US foreign policy and the oil industry
"Jim Petras has been one of the few courageous individuals, in or outside of academia, to take a critical view of the pro-Israel lobby and its influence over US Middle East policy and to challenge the "conventional wisdom" on the part of the Left that Israel acts as a "cop on the beat" and is simply serving America's imperial interests."
Jeff Blankfort,
A leading Jewish authority, writer and critic in the US on the pro-Israel Lobby
"Jim Petras is one of the best informed political scientists of his generation, not given to avoiding difficult issues. Here he addresses one such, which he tackles in a characteristically challenging way."
Tom Brass, Editor
The Journal of Peasant Studies
"Always meticulously researched and full of insight, in the final analysis Petras' opinions are almost always vindicated by events. I believe that this will be the case here."
—Cy Gonick,
Canadian Dimension magazine
"Jim Petras, a man with vast expertise assembled in Latin America, takes the Leftist anti-imperialist discourse one step further, beyond safe condemnation of American imperialism.He begins where Chomsky and Zunes stop. In this book, Petras turns to the Middle East, where he discovers, through the haze of anti-Muslim polemics, assassinations and tortures, the identity of the decisive factor: that of "Jewish power shaping US policy in the Middle East against the interest of Big Oil".

Petras' critique of "soft Left" with its fear to alienate wealthy and influential Jewish supporters is a breath of fresh air; this critique has to be internalised if the Left wills to regain its place in society."
Israel Shamir, Jaffa
Leading Russian-Israeli intellectual, writer, translator and journalist
James Petras is a Bartle Professor (Emeritus) of Sociology at Binghamton University, New York. He is the author of 62 books published in 29 languages, and over 560 articles in professional journals, including the American Sociological Review, British Journal of Sociology, Social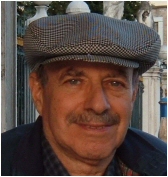 Research, and Journal of Peasant Studies. He has published over 2000 articles in nonprofessional journals such as the New York Times, the Guardian, the Nation, Christian Science Monitor, Foreign Policy, New Left Review, Partisan Review, TempsModerne, Le Monde Diplomatique, and his commentary is widely carried on the internet. His publishers have included Random House, John Wiley, Westview, Routledge, Macmillan, Verso, Zed Books and Pluto Books. He is winner of the Career of Distinguished Service Award from the American Sociological Association's Marxist Sociology Section, the Robert Kenny Award for Best Book, 2002, and the Best Dissertation, Western Political Science Association in 1968. His most recent titles include Unmasking Globalization: Imperialism of the Twenty-First Century (2001); co-author The Dynamics of Social Change in Latin America (2000), System in Crisis (2003), co-author Social Movements and State Power (2003), co-author Empire With Imperialism (2005), co-author)Multinationals on Trial (2006).

He has a long history of commitment to social justice, working in particular with the Brazilian Landless Workers Movement for 11 years. In 1973-76 he was a member of the Bertrand Russell Tribunal on Repression in Latin America. He writes a monthly column for the Mexican newspaper, Le Jornada, and previously, for the Spanish daily, El Mundo. He received his B.A. from Boston University and Ph.D. from the University of California at Berkeley.
This book is a chapter-by-chapter analysis and documentation of the power of Israel via the Israeli, Jewish or Pro-Zionist Lobby on US Middle East policy. It raises serious questions as to the primary beneficiary of US policy, and its destructive results for the United States. The extraordinary extent of US political, economic, military and diplomatic support for the state of Israel is explored, along with the means whereby such support is generated and consolidated. Contending that Zionist power in America ensured unconditional US backing for Israeli colonization of Palestine and its massive uprooting of Palestinians, it views the interests of Israel rather than those of Big Oil as the primary cause of the disastrous US wars against Iraq and threats of war against Iran and Syria. It demonstrates and condemns US imitation of Israeli practice as it relates to conduct of the war on terrorism and torture. It sheds light on the AIPAC spying scandal and other Israeli espionage against America; the fraudulent and complicit role of America's academic "terrorist experts" in furthering criminal government policies, and the orchestration of the Danish cartoons to foment antipathy between Muslims and the West. It questions the inability in America to sustain or even formulate a discourse related to the subject of Israeli influence on the United States. It calls for a review of American Mid East policy with a view to reclaiming US independence of action based upon enlightened self-interest and progressive principles.
ISBN: 0-932863-51-5 $16.95 2006